Resolutions #2 and #3 can be tied together: Save Money and Pay Off Debt. Extra cash on hand can go to savings or the credit card bills. But, in the interest of scan-ability, they each get their own post!
Spending Cuts
Everyone knows that the best way to cut spending is to mount a targeted attack against any purveyor of coffee-like beverages.
But if you cannot live without, here are a few other ways to cut back your spending.
Books
I read voraciously. How do you keep down costs? Clearly, library is the best option–it's free!
For me, I still manage to acquire a great number of tomes. Consequently, my house has as many books as some small library branches. One of the best finds I ever made was PaperBackSwap.com.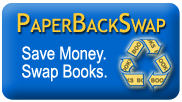 You post books (e.g., paperback, hardback, audio) with which you are ready to part. When another user requests a book of yours, simply mail it to them to earn credits. Credits you then use, in turn, to request other books for yourself…or as gifts.
So you are getting books for the cost of postage! Much better than a full price bookstore.
You should also check out used bookstores and thrift stores for reading material.
Groceries
You can cut down on your spending by always going with a list to the grocery store. And there's an app for that!
A few other grocery-related sites:
Clothes
Thrift stores will be my (closet rod's) downfall. For clothes, cut spending by making the most of what you already have. One way to do that is to take the 30 for 30 Challenge.
Started by a blogger named Kendi in April 2010, the idea is to take 30 items of clothing and only use those 30 items for the next 30 days. If you search the web, you can find a variety of people that documented their Challenge success/attempt.
Finding the "Cheap" Stuff
If you are spending, choose where you are spending wisely.
Make Your Own Sale
Scour the internet for deals! You can find a large number of bargains when you look for them from manufacturer's coupons to discount codes to web-only sales.
Best 4-letter "F" Word
Which is 'FREE,' of course. What were you thinking?!
While there may be no such thing as a free lunch, there are a lot of free entertainment options around the DC area.
Share with the Readership
What do you use/do to help you save money? Comment below!